Social Programme
The Family therapy congress offers an opportunity to see a part of the beautiful island where you find yourself before the start of the congress. You can choose between two alternatives, presented in the following.
Fårö
Wednesday Aug. 17, 9:30 – around 15:30. Cost 300 sek per person, lunch included.
Fårö is an island north of Gotland 56 km from the town of Visby. Among Sweden's biggest islands it is number eight in size. There are 600 inhabitants and tourism is the main business of the island. Fårö is enchanting! Here there are miles and miles of long beaches, remarkable scenery and magic sea-stacks. Several areas of the island are nature reserves.

We start our tour at the Congress Hall. The bus takes us straight up to Fårö – a trip of about an hour. On the trip you will see a lot of Gotland through the window as you pass little villages, fields, sheep paddocks and delightful ditch-banks. After a ferry tour of eight minutes we arrive on Fårö. The scenery is barren and beautiful. The bus takes a turn to a small road passing the church of Fårö where Ingmar Bergman is buried. Slowly it moves out to our first stop, at Digershuvud, a 3 km long belt of sea-stacks. Here you have the opportunity to climb, sit, and enjoy yourself. We move on to Langhammars – the characteristic place with the three stately sea-stacks so often seen in pictures. Here is our next stop. There is time to walk around and breathe in the fragrances of the sea. Then there is time for lunch at Gåsmora gård – a medieval limestone manor. The sea is nearby and there are Gotland specialties for sale in the shop. Then we make for Visby where we stop right at the Congress Hall in time for the big opening.
Visby – a walk through history
Wednesday Aug. 17 13:00–15:00.Cost 110 sek per person.
If you are interested in culture, history and the traces of the past, Gotland and most of all Visby is the right place for you. Not without reason Gotland is well-known for its rich history and genuine distinctive culture.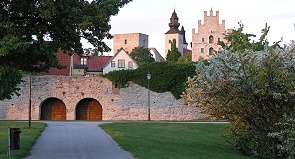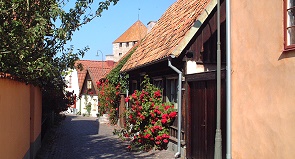 Inner city Visby has been part of UNESCO world heritage since 1995. For almost every old house, ruin or place there is a living story or enchanting legend. Our tour guides lead you to the most interesting places and the right mix of exciting experiences and recreation.
Our tour starts in Almedalen and ends at the Donner place, about five minutes walk from the Congress Hall.
Medieval feast at the ruins of St. Nicolai church
Wednesday Aug. 17, 19:00. Medieval feast at the ruins of St. Nicolai church. Cost 300 sek per person.
As darkness slowly falls over Visby we invite you to a feast in one of Visby's many ruined churches. St. Nicolai is one of the most well preserved ones. You will be met by high arches and burning fires. You will be served a light medieval buffet and a glass of beer or wine. The bar will be open throughout the evening, if you would like some more to drink. Come to a party in an environment out of the ordinary where the historical roots are tangible.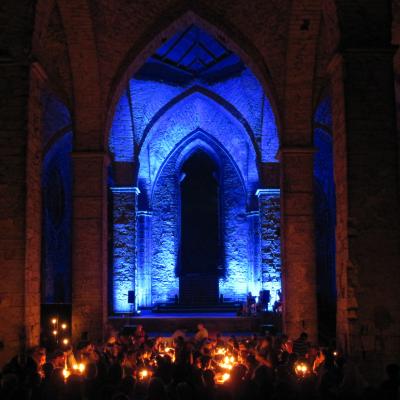 Visby – the town of tales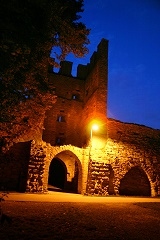 Thursday Aug. 18, 21:00–22:30. Cost 110 sek per person.
In Visby every building and every stone bears witness of the town's history of more than a thousand years. Innumerable tales and stories have been told in the homes by tallow candlelight and been passed from one generation of burghers to the next, always exciting and imaginative, sometimes comical, often drastic.
Join one of the storytellers of our time through the narrow streets and alleys of Visby. Wait in the night shadows of the cathedral for the lone stroke of the bell, announcing that the time has come to follow the pale lantern of the teller. He retells the stories that have been handed over through generations by the town´s inhabitants.
Feel the chilly air of history. What is truth and what is legend...?
Banquet with entertainment
Friday Aug 19, 19:30 Banquet with entertainment at Wisby Strand. Cost 550 sek per person.

Qi gong in Almedalsparken, 7:30 every morning
Qi gongis an ancient healing method originating from old China. It is comprised of simple movements combined with breathing and focusing of the mind. The term Qi gong is formed from two Chinese signs: qi and gong. The sign qi stands for life energy, in this context strength; while the sign of gong stands for practice, skill, or extraordinary achievement. Qi gong is an important part of traditional Chinese medicine. It is believed to prevent illness and promote the regaining of lost health. It has many faces. Apart from medical treatment, there is Qi gong resembling meditation and Qi gong similar to martial arts.
The exercises are led by Ola Eriksson and Lennart Holmgren.